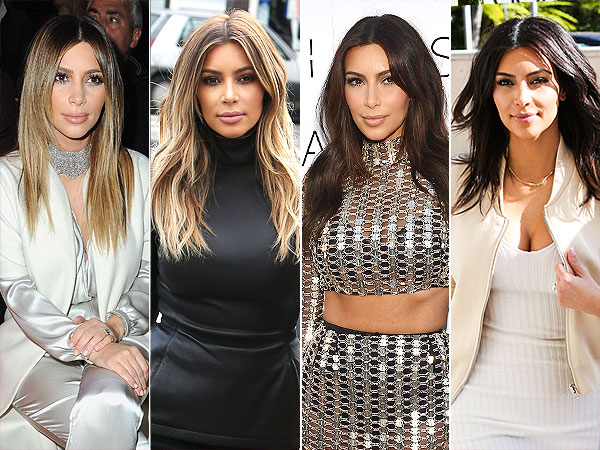 Getty; Splash News Online; Getty (2)
When you look at as many pictures of Kim Kardashian as we do (so, roughly half as many as Kim looks at of herself), you tend to notice things that might escape the layman's eye. Like, say, that her hair is a few inches shorter and more layered than it was last week. Careful analysis of her hair over the past few months shows that she has been mixing it up under the radar, and now it's time to talk about it.

Kardashian normally sports, long, layered center-parted waves that reach about to her chest, but her most recent look (far right) is choppier and falls just below her clavicle — about where we'd guess her natural hair would hit with no extensions. Without the extra volume, she doesn't bother to add her signature big-barrel curls, which gives it a little more movement and texture.
RELATED PHOTOS: Are these stars best with barely-there or bold makeup? Vote now!
She also pulled the same maneuver back when her hair was blonde, taking the extensions out for a more modern look during fashion week, but adding them back in when she wanted to go bombshell in a formfitting black turtleneck.
In the interest of giving Kim's scalp and her hairdresser a break, we'd love to know which look you love most: short or long? Blonde or brunette? Vote in the poll below or leave your thoughts in the comments, and maybe she'll take our advice (or maybe she'll punk us all and get a ginger bob next week).
Take Our Poll
');var brightcovevideoid = 1221925045001