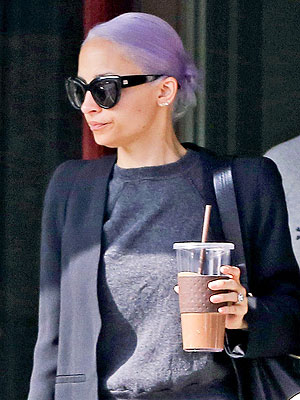 Chiva/INF
When Nicole Richie went purple, we had a lot of questions, like: How? And why? And can we pull that off? Now we've got the answers — at least to the first two (jury's still out on the third) courtesy of Danny Moon, the colorist behind her technicolor transformation.
And as it turns out, that first Photoshopped pic of Richie with lavender locks had a lot more to do with the change than we realized. "Nicole posted a picture on Instagram … of her with purple hair. The image was Photoshopped and never actually happened, but she looked great and received nothing but positive feedback after posting," Moon says. "This planted the seed, so to say. Thanks, Instagram!"
RELATED PHOTOS: See even more noteworthy celebrity makeovers here!
Once all the Instagram love convinced her to give the color a shot, she called hairstylist Andy Lecompte, who in turn invited Moon (the Pravana guest artist at Lecompte's L.A. salon) to come in and change her color. Moon used the line's Chromasilk Vivids in Violet and Pastels in Mystical Mint for that just-right purple shade to match the one in her Insta pic.

And the end result was exactly what they had in mind. "I compare Nicole's lavender color to the jacaranda trees that bloom in L.A. in the spring. It transforms the streets into a page straight out of a Dr. Seuss book — but this is no comic book color," he says. "Nicole wears it with class and elegance."
From start to finish, stripping to deep conditioning, the whole process took five hours — which "flew by while we anticipated the color transformation," Moon says. So how did the "color-infused princess" (his words) react when she saw the new look? "The first thing Nicole said when she saw her finished hair was 'I love it.'"
Do you love it too? Tell us in the comments!
–Alex Apatoff, reporting by Jackie Fields